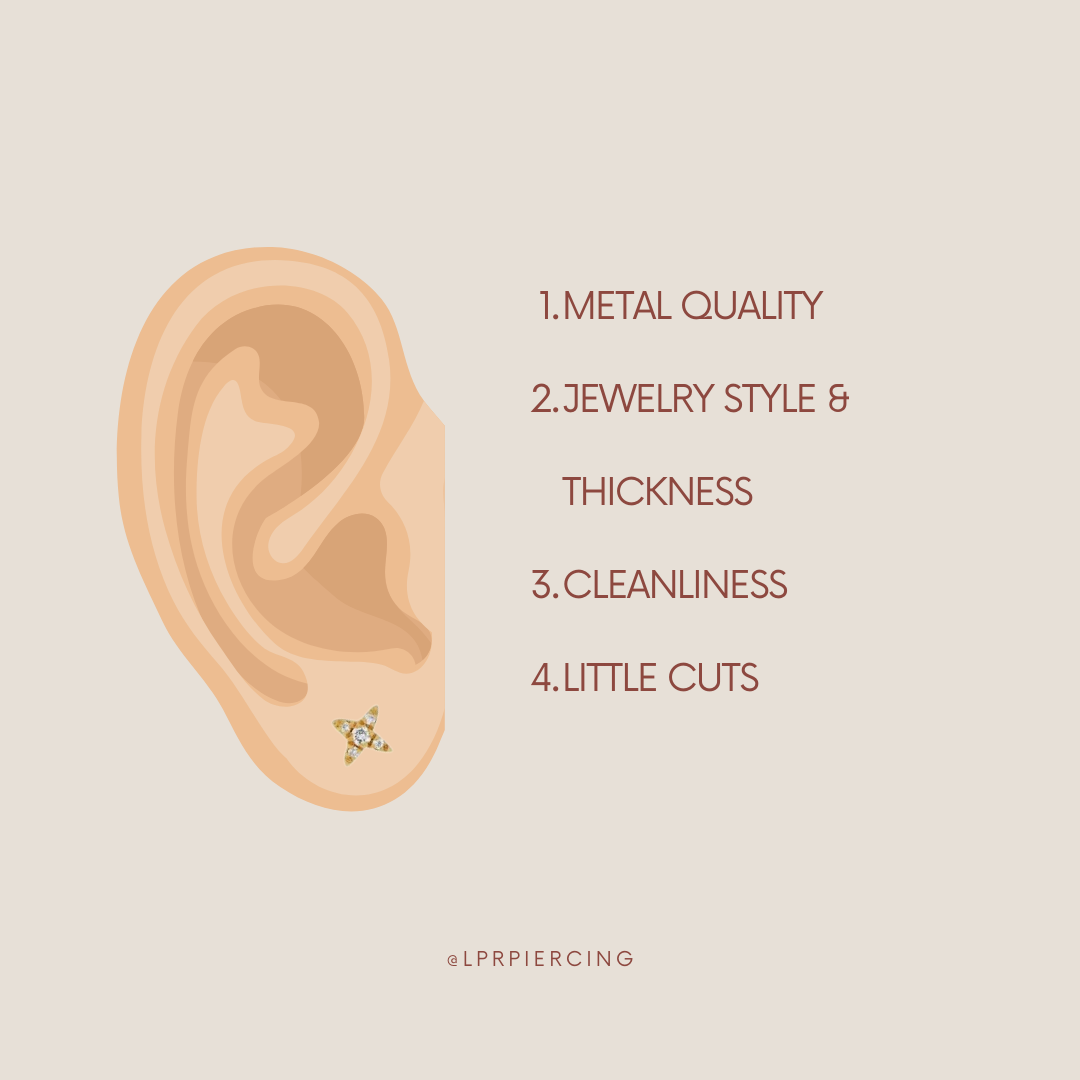 Why do earrings irritate your lobe?
1. QUALITY
Earrings are often made of:
Silver

Low quality gold plating

Solid gold with a gold stamp on the wearable surface

They contain nickel or other miracle metals.
All of these variants have the possibility to irritate the skin.
The butterfly backs on earrings often have a silver or gold stamp on the wearable surface or are made from a low quality miracle metal.
As this has a large surface that rests against the skin this can cause an itching or irritating reaction.
2. JEWELRY STYLE AND THICKNESS
Most earrings have a stem of 0.6mm or 0.8mm thick, this is too thin and can slide through the skin overtime.
Resulting in an elongated hole.
The sliding/cutting through the skin can cause serious irritations and can even cause little scratches or tiny wounds around the piercing hole.
3. CLEANLINESS
Butterfly backs gather a lot of debris and dirt that rests against the skin.
When the skin has little scratches as explained in the previous slide, this could possibly cause an infection.
As most earrings are made from metals that are softer they get scratched easily.
You put your earrings in a drawer or box with other jewelry that rub against each other for example.
Every little scratch can harbor bacteria or dirt, after putting them back in your ears this can also cause irritations.
4. OPEN WOUND BY FORCING IT
Pierced holes can shrink or even close up over time when you do not wear your jewelry.
When you only wear earring with a stem of 0.6 or 0.8mm they do not need to shrink a lot to almost close up.
This makes it hard for you to insert your earrings.
Every time that you force your earring back through, your skin can look a bit swollen or red.
So your skin is already irritated or you even have created a little wound or little cuts inside the hole.
Adding jewelry made out of silver or nickel will only emphasize this irritation and this can really hurt.
DOES THAT MEAN THAT YOU CAN NEVER WEAR EARRINGS AGAIN WITHOUT GETTING AN IRRITATION?
No, there are solutions!
Piercing jewelry made of implant grade titanium can totally help you if you are sensitive to metal reactions. These are the easiest and best solution.
When wearing earrings that you can easily switch, look for more thicker stems, check there are no stamps on the wearable surface and look for jewelry that is made out of strong metals. For example sterling silver (not silver) with a vermillion 14kt or 18kt plating. Vermillion is thicker and more stable for long time use. Sterling silver with no coating is not fit to wear through your skin. Shop our vermillion collection
Store your earrings separate from each other so they can not get scratched.